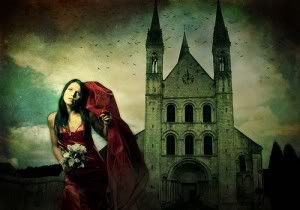 They were waiting for her on this joyous day.
One at the altar and one in the alleyway.
She had her bags packed for a lifetime of love,
The love-me-like-I'm-leaving love she's only ever dreamed of.
The decision chewed at her heart as she chewed at her lip.
Silver clenched in her hands, a never-leave-me grip.
She dropped it into the velvet covered box, never to be worn,
That's just how life goes, too many choices that may leave you torn.
Countless sighs and tears, with bridesmaids flitting about.
She's just nervous: butterfly wings fluttering that refuse to fly out,
But she's not nervous; she's running away, refusing to say goodbyes.
As she borrows the old blue Corvette, with a new light in her eyes,
She drives off into the sunset, unaccompanied, unashamed and unwed,
This was the joyous day the bride wore red.
props to
pareeerica
for the amazing picture.